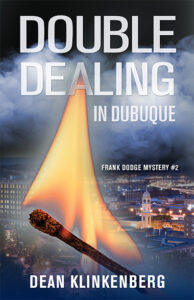 He's got his first plum assignment. But has this travel writer bitten off more than he can chew?
Frank Dodge can't wait to dig into what he hopes is the biggest story of his career. Hired by a national magazine to pen a piece on the Midwest culinary scene, he brings his appetite for a scoop to a small river town's food convention. But he's forced to put his story on the backburner when a suspicious fire claims two innocent lives…
After the blaze is ruled accidental, the ambitious journalist isn't convinced and vows to search for the truth. And with his scheming rival out to steal his article, and a bitter feud between an ice cream maker and a chocolatier heating up, if he's not careful he may lose more than his lucrative engagement.
Can Dodge get to the bottom of a barrel of bad apples, or is this job a recipe for disaster?
Double Dealing in Dubuque is the second book in the quirky Frank Dodge mystery series. If you like complex characters, atmospheric Mississippi River settings, and great food, then you'll love Dean Klinkenberg's delicious whodunit.
Buy Double Dealing in Dubuque to enjoy the icing on a crime-baked cake today!