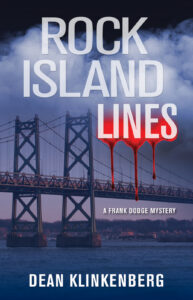 He knows not to bury the lead. But if he follows this story, he could end up six feet under…
Travel writer Frank Dodge needs a breakout piece to resurrect his sinking career. So when he gets a tip about one of the last surviving descendants of the notorious mobster John Looney, he drops everything and heads to Davenport, Iowa. But after a long and boozy interview, his article turns into a murder mystery when his source is found floating face down in the Mississippi.
Pegged by the police as their prime suspect, Dodge vows to catch the real killer. With a helping hand from his homicide detective friend, he uncovers a deadly rivalry going back to 1900's gambling halls and gang wars. But the deeper he digs, the more he fears he'll wind up another casualty watering a bloody family tree.
Can Dodge unearth the culprit behind the grisly revenge before he becomes tomorrow's headline?
Rock Island Lines is the first full-length novel in the noir-style Frank Dodge mystery series. If you like real-life gangsters, page-turning action, and a dash of snarky humor, then you'll love Dean Klinkenberg's gripping whodunit.
Buy Rock Island Lines to stop a lethal legacy today!
Buy Rock Island Lines:
Check out the video trailer for Rock Island Lines.
Editorial Reviews
"…the inclusion of historical passages to frame the story actually helps to reaffirm some of the true history of John Looney… an easy read."