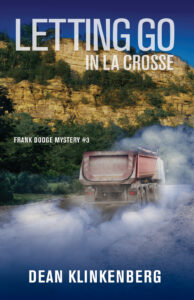 The headline is explosive. The clock is ticking. Can he uncover the lies before a community self-destructs?
Freelance journalist Frank Dodge vowed to stay by his estranged lover's side until the bitter end. But when he's offered a plum assignment covering the economic impact of frac sand mining, he's torn between his career and reconciling with his dying ex. Believing he can do both, he's midway through the gig when a bomb goes off, taking innocent lives.
Discovering that corruption runs fatally deep in the clash between greedy corporates and luckless locals, Dodge chases the story into high-stakes territory. But the investigation takes him far from his former partner's deathbed when he realizes his major national scoop could take down powerful forces causing widespread environmental destruction.
Will Dodge's exposure of greed-driven crime cost him more than a guilt-ridden promise?
Letting Go in La Crosse is the third book in the gritty Frank Dodge mystery series. If you like snarky heroes, dark humor, and communities battling for survival, then you'll love Dean Klinkenberg's engaging page-turner.
Buy Letting Go in La Crosse to reveal the truth today!
Buy Letting Go in La Crosse: