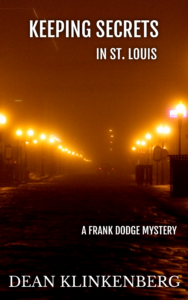 A stolen treasure. A scandalous affair. This was not the assignment he signed up for.
Plagued by self-doubt, novice freelance writer Frank Dodge is determined to prove he made the right choice to start a new career. Excited about an assignment to write a profile of a St. Louis institution, his mood is deflated when he finds the museum staff in chaos over the theft of their most valuable item: the original score for Scott Joplin's The Entertainer.
The museum director, worried about news of the theft leaking out, asks Dodge to help find the missing document. With his assignment busted, he agrees. Maybe the anonymous philanthropist who donated the valuable piece of ragtime history isn't as charitable as she seems. Or maybe the smug head of the museum's governing board has a hidden agenda. As Dodge zeroes in on a suspect, a suspicious death and a secretive affair threaten to derail his investigation.
Will Dodge find the missing score or will the museum's cagey staff derail Dodge's writing career before it starts?
Keeping Secrets in St. Louis is a prequel to the Frank Dodge mystery series. If you like complex characters, atmospheric settings, and a dose of snarky humor, then you'll love Dean Klinkenberg's engaging page-turner.
Get Keeping Secrets in St. Louis to unmask the truth today!